Family and Pet Friendly Hikes in Bryson City, NC
Family & Pet Friendly Hikes in Bryson City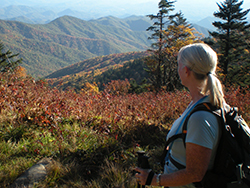 Though Bryson City is a relatively small town, it has more than 800 miles of hiking trails nearby. Naturally, not all of them are recommended for "beginning" hikers or for those just in the area for a short time. However, it is an ideal spot from which to do some daily hiking adventures. Bryson City Cabin Rentals offers fifty cabin rentals throughout the Bryson City area. Some of which have hiking trails on property, but most are located conveniently to the top choice hiking trails. BCCR also has many pet friendly cabins, so you have the option of bringing you pet if youd like to hike with them. Just make sure to check if your trail of choice is also pet friendly. If not, feel free to let them relax in the cabin while you explore. We have compiled a list of must do hikes around the Bryson City area. This list only includes those that are good for kids and pets:
Old 288 River Park Trail

- This is a very easy and convenient trail that is less than two miles from the center of the town. Just follow the Old Hwy 288 to the signs for Bryson Walk.
Nantahala National Forest

- Though a national forest, it allows dogs on leashes to visit the park. There is a paved biking trail here that is also perfect for kids and the elderly. It is found at the popular rafting launch area and allows you to walk for a very easy and scenic 1.5 miles. This is the ideal place to pack a picnic and enjoy some fresh air and good views.
Recreation Park

- Near the Deep Creek area in the center of Bryson City, this is a very gentle walking trail located off of West Deep Creek Road.

This is a great choice for a bit of light exercise for the whole family.
Oconaluftee River Trail

- These two walking paths are the only places in the Great Smoky Mountains National Park where both bikes and dogs are allowed. It is a three mile trip that takes you from the visitor's center to the Mountain Farm Museum. It is very easy hike. It is also a great trail for packing a picnic and spending some time enjoying the many sites along the way.
Island Park -

This is less a hike and more of a walk, but it is conveniently located in town and is fun for kids and dogs alike. It is found along Bryson Street and is reached via the small bridge at the end.
-Photos by Charles Snodgrass
- Photo Courtesy of the Bryson City / Swain County NC Chamber of Commerce.