Sleeping Arrangement
Main Level Master
1 Queen
Upstairs Bedroom
2 Queens
Upstairs Bedroom 2
1 Queen
Amenities
Three Bedroom, 2.5 Bath
Sleeps 10, 4 Queen Beds and a Sofa Bed

Beautifully Restored
Convenient location, just 1200 ft. from downtown
Nice large deck
Gas grill w/outdoor dining
Hot Tub
Beautifully Equipped
Fully stocked kitchen with stainless appliances, granite countertops
Gas fireplace
Large Flatscreen tv with Direct TV in Living Area
Wifi
Full laundry
Flatscreen tv in each bedroom

Floor Plan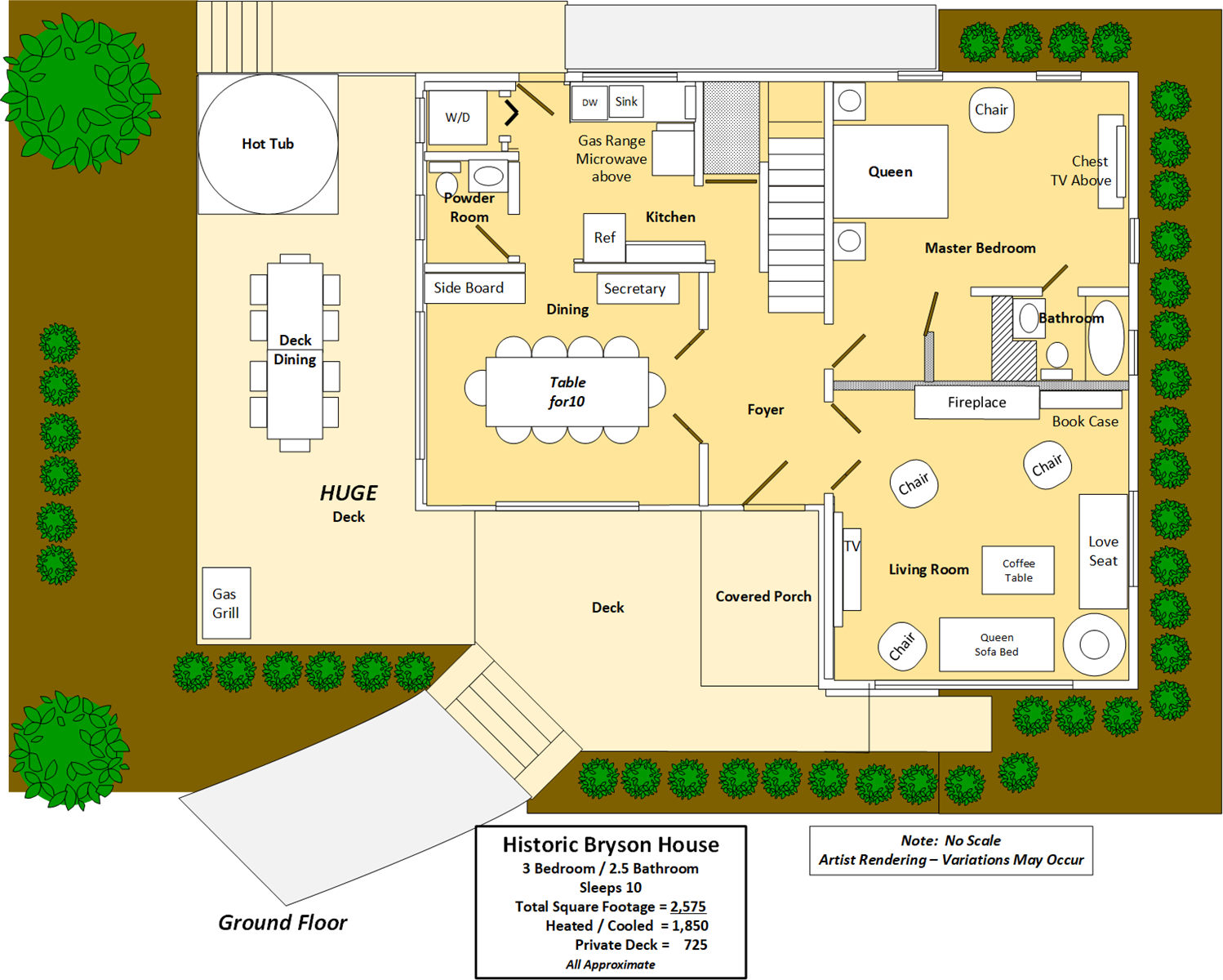 Calendar
Sep - 2020
S
M
T
W
T
F
S

1

2

3

4

5

6

7

8

9

10

11

12

13

14

15

16

17

18

19

20

21

22

23

24

25

26

27

28

29

30
Oct - 2020
S
M
T
W
T
F
S

1

2

3

4

5

6

7

8

9

10

11

12

13

14

15

16

17

18

19

20

21

22

23

24

25

26

27

28

29

30

31
Nov - 2020
S
M
T
W
T
F
S

1

2

3

4

5

6

7

8

9

10

11

12

13

14

15

16

17

18

19

20

21

22

23

24

25

26

27

28

29

30
Dec - 2020
S
M
T
W
T
F
S

1

2

3

4

5

6

7

8

9

10

11

12

13

14

15

16

17

18

19

20

21

22

23

24

25

26

27

28

29

30

31
Jan - 2021
S
M
T
W
T
F
S

1

2

3

4

5

6

7

8

9

10

11

12

13

14

15

16

17

18

19

20

21

22

23

24

25

26

27

28

29

30

31
Feb - 2021
S
M
T
W
T
F
S

1

2

3

4

5

6

7

8

9

10

11

12

13

14

15

16

17

18

19

20

21

22

23

24

25

26

27

28
Mar - 2021
S
M
T
W
T
F
S

1

2

3

4

5

6

7

8

9

10

11

12

13

14

15

16

17

18

19

20

21

22

23

24

25

26

27

28

29

30

31
Apr - 2021
S
M
T
W
T
F
S

1

2

3

4

5

6

7

8

9

10

11

12

13

14

15

16

17

18

19

20

21

22

23

24

25

26

27

28

29

30
May - 2021
S
M
T
W
T
F
S

1

2

3

4

5

6

7

8

9

10

11

12

13

14

15

16

17

18

19

20

21

22

23

24

25

26

27

28

29

30

31
Jun - 2021
S
M
T
W
T
F
S

1

2

3

4

5

6

7

8

9

10

11

12

13

14

15

16

17

18

19

20

21

22

23

24

25

26

27

28

29

30
Jul - 2021
S
M
T
W
T
F
S

1

2

3

4

5

6

7

8

9

10

11

12

13

14

15

16

17

18

19

20

21

22

23

24

25

26

27

28

29

30

31
Aug - 2021
S
M
T
W
T
F
S

1

2

3

4

5

6

7

8

9

10

11

12

13

14

15

16

17

18

19

20

21

22

23

24

25

26

27

28

29

30

31
Rates
* Rates are subject to change without notice. Pricing excludes taxes, additional options and fees.
Reviews
Property Manager
Property
Property Manager
We left something in the house and Traci was excellent in helping getting it returned to our house!!!!!
Property
It was a great place to stay. Bryson City is a cute town with lots of activities to entertain the entire family!
Property Manager
Property
Property Manager
Our reservation was easy too obtain from your friendly staff.
Property
the bryson house provided plenty of room for our family and has been beautifully restored.
Property Manager
Property
We all loved the Historic Bryson House and are already considering staying there again next summer! Very clean and well appointed, we also liked the large outdoor dining table which we used every night. The view from the deck was awesome and the short walk to all Downtown businesses and restaurants were great attributes. It was also a short drive to tubing on Deep Creek, rafting & zip lining on the Nantahala and a short walk to the Train Station for a wonderful ride through the Gorge. Seven of us fit nicely into this home. Five Stars from our Famil; hope to see you next year!
Property Manager
Property
Property Manager
Property
I loved the stay and had a great time.
Property Manager
Property
Property Manager
Property
Property Manager
Property
Property Manager
I just cannot say enough wonderful things about our family experience. We had decided before we drove away that this was something we would do again. After we arrived back in VA, we realized a set of wedding rings had been misplaced. Danielle was caring about our concern and the housekeeper, Becky made every effort to find them. Honest, helpful and the perfect place to stay for a family train ride.
Property
I only hesitate to write such a glowing recommendation because someone may book it next year before us. FYI-- this is grandparents treating our children and grandchildren for an early Christmas treat and this was perfect.
Property Manager
Property
Beautiful home with modern updates. Spacious home with lots of room for our family. Perfect location. Right in the middle of town but still has privacy and plenty of nature around for the kids to explore. Security was top notch. Felt very safe
Property Manager
Only contact was via computer. It was quite satisfactory.
Property
Beautifully restored historic home within walking distance of restaurants and shops. We enjoyed our stay very much. Would stay again!
Property Manager
My family appreciates Danielle's friendly customer service. With a last minute call, she took the time to go over available properties and assure our needs were met. We will stay with Bryson City Cabin Rentals again.
Property
The Historic Bryson house is a nice old has that was recently restored with modern amenities. This property more than met our expectations.